Clubs & Activities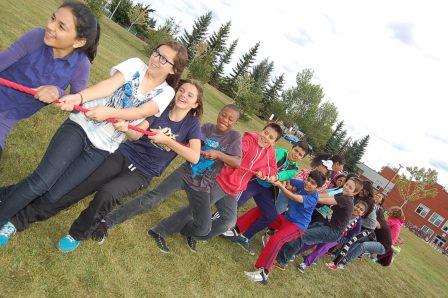 T.D. Baker School believes that active, involved students feel more connected to the school, their peers and their teachers. This higher level of engagement often leads to greater student success, both academically, and through the development of other skill sets. T.D. Baker has a variety of clubs and activities for students to that support these goals.
Clubs and activities in the school evolve each year based upon teacher and student skills and interests. Recently run clubs include:
Social Justice

Dinner Theatre

APEGA Science Olympics

SWAT Team

Workout Club

Dungeons and Dragons Club

B.O.G. – Baker Olympic Games

Lego Club

Lunch Club


Express Club

Ski/Snowboard Club

The Way In Student Council

School dances
Special Events – Culturama, Historica, Hat Day, Touch of Class, Christmas, Valentine's Day, Food Drives, Halloween, Grade 9 Farewell
Japanese Exchange

T. D. Baker is privileged to have a long standing relationship with the Hoi-gun International Committee of Education in Japan. For the past 15 years, T. D. Baker School and Kozakai School have partnered together to foster cultural exchange and international friendship.
The purpose of this once-in-a-lifetime trip is to offer students an opportunity to experience Japanese culture and life while living with a Japanese family. Participants will also have the opportunity to attend a Japanese Junior High and experience different areas of Japan, including Tokyo. Being immersed in a new culture, foreign language, and unexpected customs develops fundamental life skills that allow us to see beyond our personal cultural experiences.

Students who are not able to join the trip to Japan will still benefit from the exchange. T. D. Baker students can volunteer to host a Japanese student, befriend a visiting Japanese student during their stay, and learn about Japanese culture through a whole-school welcome assembly.